I have had an theory, but always kinda went...''meh, it CANT be. ''
But if it's true that she is gonna betray them....
Could it have something to do with Amber?
Hear me out, guys. I can explain.
Because ever since i first saw Amber, i thought '' Man, she looks EXACTLY like Holly. Same hair/haircolor (Amber's is only slightly longer at the neck and Amber's bangs flare out more, but other than that, it's pretty much the same.), same ear-ring. Only really big difference is that Holly is kinda butch, wears slightly more butch clothes, wears no makeup and Amber dresses like....uhh....well, not very proper.
Holly. Amber.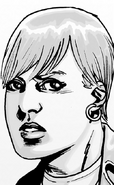 Here's a side shot as well.
Amber. Holly.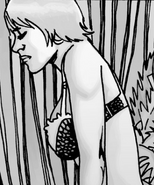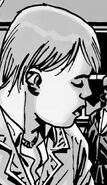 It is foolish to assume anything (maybe It's just a case of Adlard drawing characters similar with NOOOOOOO connections whatsoever.), but i dunno.
Okay, let me reput my theory.
Holly is not gonna betray them. She is just getting inside the Sanctuary to find Dwight.
Amber....Maybe she IS Holly's (twin) sister, and she is actually one of the people that thinks Dwight is a good guy, and when Holly comes to face Dwight (because it WILL happen, of that i'am sure.), she steps in to break it up.
Holly is shocked, then glad, but soon remembers why she came to the Sanctuary. She aims at Dwight with the shotgun.
Amber then tells Holly to stop saying something like '' This is a good man. Dont hurt him. '' (better worded, but something like that) and it causes an dilemma for Holly. Kill the man that killed Abraham and avenge him, or turn her long lost sister against her by killing one of her close friends.
It is a JUST a theory, and potentially a REALLY stupid one (time will tell)....but i dunno, it could work, at the very least.