I'm slightly new to this forum and have enjoyed reading the posts of the intelligent people on the forum. So well Ive decided that I want to contribute more to the site so here is a little guessing game for you guys.
Who. Is. Next. Is a game Ive created where users will be put in a game where they will be rewarded points for correctly guessing which slightly important character will be next to go, the person with the most points at the end of Season 3 will be the winner (I have no prize so this is just for fun). I am aware that spoilers for the show are usually released slightly early so I have made some rules to combat that.
Rules

1.
You do not gte points for guessing incorrectly (obviously). Here is the points system.
The first 3 people to correctly guess who will be next to go will get
3 points
.
The Next 2 will get
2 points.
And the rest will get
1 point.2.
You can only predict the deaths of characters that are actually slightly important, have had some points E.G Choosing characters like Oscar is completely fine because he actually did stuff, or even Caeser because he has had a few lines, but correctly guessing that Shupert is going to die next won't get you any points, (This can change if a character gets more important). It's hard to draw the line sometimes but people who haven't had any lines certainy don't count.
3.
You can only guess characters who have already appeared on the show and not ones that are set to appear in the next episode.
4.
You can predict two or more at a time if you believe two will die in the next episode but you must put them in the right order to get full marks. You will however get
1 point
if you predicted a characters death to be in the next episode but got it in the wrong order.
5.
You cannot change your guess until the next episode has aired.
Popeyes Guess: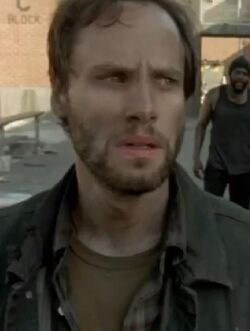 Allen
It looks like he's about to screw with Carl - and that can only go wrong. Even if he doesen't I do not see him lasting long.